Pearson System of Courses
Mobile System of Courses Grades 2-12
Pearson provides content, assessment and digital services to learners, educational institutions, employers, governments and other partners globally. This project focused on app creation. The Pearson System of Courses is a series of apps created to modernize the learning process in K-12 classrooms. Quantilus developed two apps, one for grades K-1 and another for grades 2-12.
Modernize the learning process by digitizing K-12 classrooms

Overcome schools' notoriously poor Wi-Fi connectivity to accommodate 25+ student devices per classroom

Integrate the student rostering system with LAUSD's Student Information System (SIS)

Build an assessment reporting toolkit 

Develop a workflow to allow global collaboration in content authoring/QA and approval lifecycle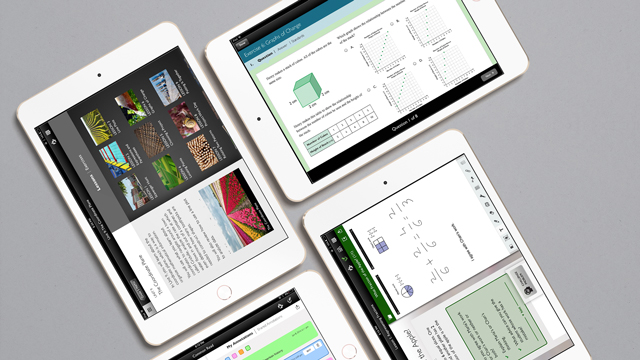 Quantilus created an app that is a centralized location for students and teachers to learn and interact. The app facilitates the delivery of curated content in the forms of interactive games, animations, eBooks, and videos to students' tablets and laptops. It also allows students to work on their assignments, collaborate with each other, and take assessments. Teachers can review student progress and provide personalized feedback.
To address intermittent or poor wi-fi connectivity in schools, we built the Classroom Area Network (CAN). The CAN provides a local server and wi-fi network for each classroom and is itself synchronized with our servers through a wired connection. This allows students and teachers to transfer data-heavy content without experiencing crashing or slow internet speeds.  
Additionally, we built an Assessment Reporting Toolkit using SAP HANA to process student usage data from the mobile apps to determine student scores and progress across educational standards. The tool can analyze billions of records in near real-time, providing actionable metrics for teachers and administrators.    
Lastly, the project involved a complex workflow that involved multiple content types and teams at multiple geographic locations—text and graphics content in San Francisco, audio/video content in Los Angeles, and interactive applications in the Philippines, India and, Costa Rica. Quantilus devised a workflow that allowed the geographically disparate teams to work efficiently and effectively.  
Android

iOS

Windows App Studio

Chrome For Work

PowerSchool

Xamarin

Alfresco

Unity

Sencha

SAP HANA
Solutions architecture

document Management System

Content Management System

Cross-platform App Development

publishing Workflow
Sign-up for our mailing list to receive the QSights newsletter, updates, and the latest trends in emerging technology from Quantilus Innovation.