Media Source, Inc.
Content Management System, Website Redesign, & eCommerce Platform
Reaching more than 30 million students, Media Source, Inc is a platform providing independent reading and information services to K-12 professionals and library leaders in the United States. A longstanding client, Media Source tasked Quantilus to lead the digital transformation of their Library Journal, School Library Journal, Hornbook, and Junior Library Guild properties. The project focused on creating a content management system, redesigning a website, and revamping an eCommerce website. 
Transform the digital footprint for Library Journal, School Library Journal, and Horn Book to optimize the user experience and maximize revenue potential 

Modernize the website properties and stabilize order processing and synchronization with ERP

Migrate WordPress CMS to Java-based system

Revamp eCommerce processes and experience to support complex backend integrations and a seamless, user-friendly frontend customer experience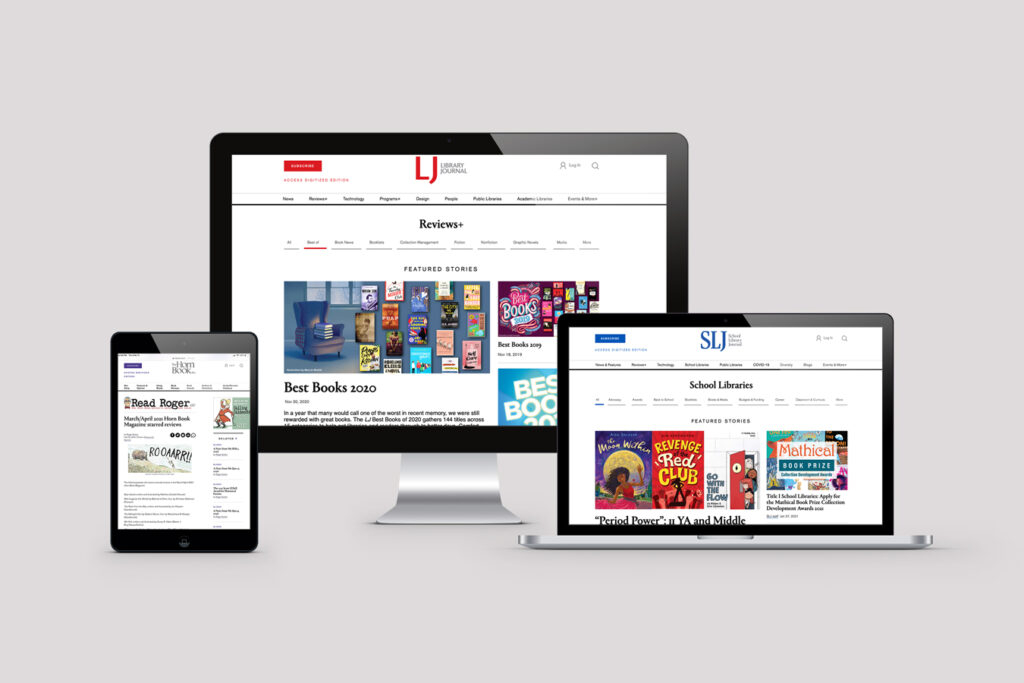 Quantilus built a robust content management and digital asset system (CMS) with multiple internal and external integration points. Using the newly created CMS, content is now published to a redesigned web and mobile front-end experience for users. 
Quantilus also completely revamped the eCommerce website for Junior Library Guild, a custom book subscription service for school and public libraries that delivers highly targeted content, based on visitor characteristics and behavioral analytics. 
In addition to redesigning the web and mobile front-end experience and improving metadata, Quantilus built a robust, eCommerce platform with multiple integration points using Enterprise Service Bus to manage all information exchanges and logical business transactions across content, CRM, ERP, supply chain and the customer-facing website. The new technology platform supported new products and revenue opportunities as well as optimized marketing channels and customer communications and service.   
Hippo CMS

SAP Business One

Power BI

Microsoft Dynamics

Magento

MuleSoft

MongoDB

TruAuthor

Amazon Web Services
Solutions Architecture

Warehouse Systems Optimization

Cloud Infrastructure

Data Integration & Management

Content Management System

ERP Integration

Workflow Process

Business Intelligence

Website Development

eCommerce

 
Sign-up for our mailing list to receive the QSights newsletter, updates, and the latest trends in emerging technology from Quantilus Innovation.